Whatsapp is 1 of the best messaging app available for smartphones. Wechat, Viber, Telegram, Snapchat is giving tough competition to WhatsApp but still simple yet attractive interface, exciting features, and reliability has helped WhatsApp to secure top position among all messaging app.
People share messages, videos, contacts, other media files with their friends groups or personal conversations. Whatsapp smileys and emoticons have also played a major role in making 1 of the best messaging app. What you cannot tell you through a message, you can convey it through images and emoticons. Feelings like happy, sad, feeling proud, like, boast, crying etc. can be easily expressed through Whatsapp emoticons in messages.Now, Whatsapp emoticons are used for puzzles too. People create the various puzzle-like movies, cars, maths, logical, latest things, songs, smileys through emoticons and ask other users to answer. You will see some of the awesome Whatsapp puzzles below. I have also shared answers of that puzzles with you. In this puzzles, you are presented with lots and lots of emoticons and you have to decode name of a song, movie etc. through your knowledge and intelligence. You will definitely love all the below puzzles. Do share with your WhatsApp friend and ask for their answers and check whether they will be able to decode group of emoticons or not. These kinds of WhatsApp quizzes and puzzles are very popular these days.You can share brain puzzles questions, message, game, picture, emoticon puzzles, riddles. Among them, emoticon puzzles are very popular and viral on facebook. You will see puzzles like identify movie or song names, best funny puzzles, mystery pictures, Brain teasers, smileys etc.
How to share below quiz and puzzles on WhatsApp
(1) Download the images containing whatspp puzzle question using your phone or computer.
(2) Share the image to whatsapp group, conversations to get answers
(3) Later share the answer with group or conversations.First let's check all the puzzles and quizzes and later at the end of a page, you will find the answers.
Best and top whatsapp puzzles (best brain twisters)
(1)  Guess the word (Puzzle letters)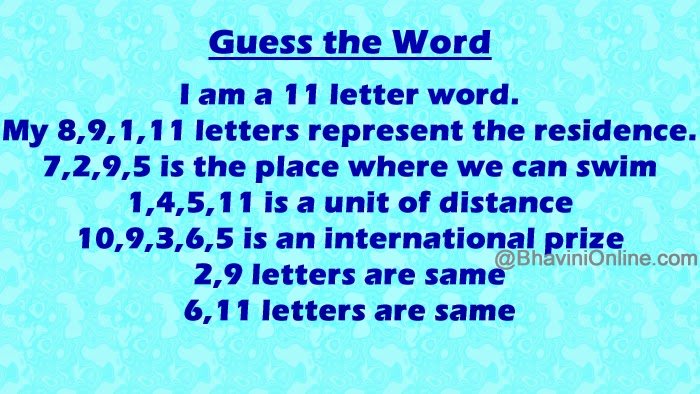 (2)  Guess the names of Lord Krishna

(3) Whatsapp puzzle 3: Guess Bollywood songs

(4) Guess Names of Dupatta Songs

(5) Guess Country names

(6) Whatsapp quiz on guessing names

(7) Solve the interesting question.

(8) Whatsapp puzzle 8: Guess names of dishes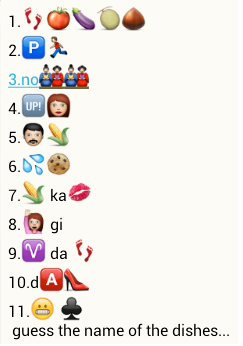 (9) Guess movie names

(10) Guess names of Indian sweets

Answers for above whatsapp emoticons puzzles
(1) Mobilephone
(2) Find the names of Lord Krishna
madhusudan
krishna
dwarkadish
narayan
hari
vasudev
devakinandan
yashodanandan
keshav
govardhan
makanchor
murari
radhey
bansidar
vanamali
nandalal
gopal
madhava
govind
shyamsundar
(3) Songs names
1. Main to motor se ja raha tha, unhe cycle se aa rahi thi, kiya tamtam ka ishara
2. UP wala thumka lagau ke hero jaise nach ke dikhau.
3. Honth rasiley tere honth rasiley
4. Choclate, lime juice, ice cream tofiyan, ab mujhe lagti hai sari paheliya
5. Rang de basanti
6. Satyam shivam sundaram
7. ————————-
8. Main nagin tu sapera
9. Gore rang pe na itna gumaan kar, gora rang do din me dhal jayega, by deepka jain
10. Tan tana tan tan tan tara
(4) Whatsapp puzzle answers 4: Names of Duppata Songs
1. Lal dupatte wali tera naam to bata.
2. Lal dupatta uda hawa ke jhoke se
3. Inhi logon ne le liya dupatta mera
4. Neela Dupatta Peela suit
5. Dupatta Tera Nau Rang Da
6. O hare dupatte wali tera naam to bata
7. Hawa main udta jaye tera laal dupatta mal mal ka
8. Agar kare dil tera….aa rang de …dupatta mera
9. Sir se sarka jaaye dupatta beimaan re
10. Dupatta sarak raha hai …mera dil dhadak raha hai…
(5) Country names
1. Germany
2 Oman
3 China
4 Cuba
5 Botswana
6 Ukraine
7 Spain
8 Wales
9 Peru
10 Italy
11 Argentina
12 Dubai
13 Bali
14 Pakistan
15 India
16 Iran
17 Panama
18 Singapore
(6) Whatsapp quiz 6: Wheat

(7) He shoots his reflection in the mirror.
(8) Guess name of dishes
1. Pav bhaji (pav + vegetables)
2. Pizza
3. Noodles (no + dolls)
4. Upma (UP  + maa)
5. No clue
6. Pani puri
7. No clue
8. No clue
9. Vada pav
10. No clue
11. Khichdi (khi khi + chidi)
(9) Movie names
1. Suryavansham
2. Aankhein
3. Agni Varsha
4. kaante
5. Black
6. Waqt
7. Sarkar
8. Babul
9. Buddha Hoga Tera Baap
10. Bhuthnath Uncle
(10) Names of Indian sweets
1. Gulab Jamoon
2. Peda
3. Boondi Jal-bee (Jalebi)
4. Kheer
5. ————–
6. Milk Cake
7. Shrikhand
8. Chum chum
9. Imarti
10. Barfi
11. Chenna Murki
12. Rasgola
13. Kaju Katli
Tags
whatsapp puzzles with answers
whatsapp quiz
brain questions and answers