Indian railways use PNR number to uniquely identify each ticket issued. Pnr no is issued to all tickets booked from railway station or through IRCTC. There are 3 kind of PNR status.
Once you book ticket for any train, you will receive sms on your mobile and email saying PNR no and PNR status. Later whenever you want to check and know your current pnr status, you can do it by going to this website:
Check PNR status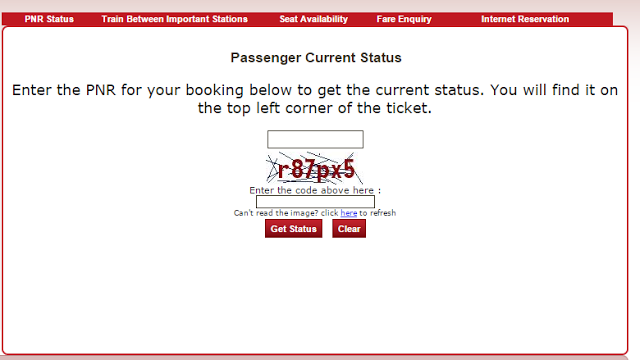 Types of PNR status
(1) Confirmed Ticket – CNF
If tickets are available for your desired station, then you will get confirm ticket with Coach and seat no. Also wait list can be tickets can be converted to confirm ticket if another passengers cancels their ticket. It is always safe to book confirm tickets than wait list tickets.
(2) RAC (Reservation against cancellation) (Half confirmed ticket)
RAC tickets are most likely to get confirmed by the time of chart preparation and passenger gets a ticket. If it is not confirmed even after chart preparation, then 2 passengers have to share a side lower berth. Even if RAC tickets are not confirmed after chart preparation, TTE always give priority to RAC tickets and try to accommodate them in the births which are cancelled after chart preparation.
(3) WL (Waiting List tickets)
Below all irctc pnr status are types of waiting list. There are different quotas for waiting list tickets like general quota, tatkal quota, ladies quota, pooled quota, H.O. Quota, defense quota.
PQWL
Pqwl means pooled quota waiting list. When you book ticket to a station which is having pooled quota (intermediate station quota) and if all tickets are booked then you get pooled quota waiting list ticket. Pooled quota is for specific stations which shared pooled quota tickets and these station are generally minor and not major stations. This quota is used for the benefit of long distance travellers and limits the so many short distance travellers.
RLWL
Rlwl meaning = "remote location waiting list" and it is issued fo intermediate locations between source and destination station. This kind of ticket is issued for stations which are not important in that train's route. This kind of ticket(RLWL) has very less priority for confirmation and will not get RAC provision even.
RLGN
Rlgn meaning is "Remote location general wait list". This type of wait list ticket is issued for intermediate station to destination ticket. It has very high chances of confirmation. If anyone from same station cancels the ticket, your ticket will immediately be confirmed or else it will be confirmed once the chart is prepared (4 hours before departure).
RQWL
Rqwl means request waiting list ticket. If ticket is booked from 1 intermediate station to another intermediate station and if it is not covered under general quote, remote quota or pooled quota then waiting list ticket goes into request waiting list. Chances of confirmation is very less and it only gets confirmed when confirm ticket for similar station gets cancelled.
CKWL
Ckwl means tatkal quota waiting list ticket. This ticket is only confirmed when another tatkal ticket is cancelled so chances of confirmation is very low. Difference between general quota and tatkal quota waiting list is, general quota may get RAC but for tatkal quota NO RAC is allotted.
GNWL
Gnwl means general quota waiting list. These tickets are issued when ticket is from originating station or station nearer to origination station to destination station or nearer to destination station (Covering most of the train route). This kind of ticket (GNWL) has high chances of confirmation.
LDWL
Ldwl means ladies quota waiting list. This waiting list ticket is against the ladies quota reservation. Tickets can be confirmed if another woman cancels her confirmed ticket.
Tags
pqwl meaning, rlwl means, gnwl, irctc check pnr status
rlgn, rqwl, ckwl meaning and status, railways
what is gnwl