Fiverr is online marketplace for online jobs where you can sell your services-products as well as you can buy awesome services offered by other people. It has more than 3 million services listed on their site ranging from $5 to$500. It was founded in 2009 and became so popular in very short span. In this article we will see what is fiverr all about and information on similar sites like fiverr (competitors).
How does fiverr work?
Buyers search for gigs which are related to services they want to buy. (i.e. Buyers will search for SEO or marketing gigs if they require seo or marketing service)
Buyers choose the most related gigs related to service they want. Then they check the sellers rating and past reviews and choose the most appropriate gig and seller.
Buyer communicates with seller and finalize on the service, delivery time and price of the gig and later orders the gigs by paying through paypal or bitcoin payment options. Fiverr may add different payment methods for the convenience of their buyers.
Seller completes the work and delivers order. Once it is delivers, buyer checks the order and confirms if he is satisfied and rejects if he is unsatisfied.
Once buyer confirms the order delivery, order is completed and seller gets the money for the service offered in his fiverr account.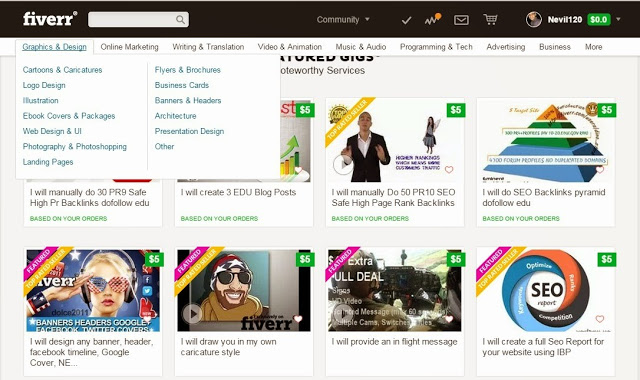 Fiverr Home Page
Apart from offering great services, fiverr has many more features in store which made them no. 1 micro jobs website in recent years:
Collection: You can collect and save all the gigs you love on fiverr, share your gig collections with other users and buy all of them together. Fiverr also shows your recently viewed and recently ordered gigs.
Tip: If you are impresses with seller's service, you can leave $5, $10 or custom amount tip for seller.
Custom offer: If you want to have agreement for 1 off work with your buyer, you can send custom offers to them. You can specify the amount you will charge, category, description, related to which gig, how long it will take for you.
Customer Support: Fiverr provides excellent customer support to their buyers and sellers. They provide account, order, technical, feature, gig, trust, intellectual property claims support. Other websites like fiverr are lacking when it comes to proving great support to their users.
Fiverr is very popular and receives most traffic from countries like USA, UK, India, and Australia. Its popular services includes SEO, affiliates and social marketing. It is great application for buyers and sellers but it has some restrictions too. So people have started looking for other options. Restrictions like new user can't create gigs worth of more than 5$, limited no. of bidding opportunities, order payment after 15 days, higher fees and so on. So check for the hottest sites which provide similar service with less limitations to make money online.
5 popular sites like fiverr
(1) SEOClerks
One of the best gig based freelancing site after fiverr where you can sell your services, article, tweets, blog reviews, ebook, software, themes. As a buyer you can buy above services offered by different sellers. Here there is no restriction on price and you can create gigs worth of any amount (From $1 to $1000).  You can withdraw your earnings through Paypal, payoneer, payza. As a seller, You are allowed to withdraw your earnings maximum 8 times in 31 days and that is pretty much enough for even biggest seller. Overall, Seoclerks is considered as microjob website where you can find many services at cheap rates. It is considered as 1 of the top fiverr alternative.

SeoClerks
(2) Gigbucks
It is built using FiverrScript (Fiverr clone) and having similar UI as the version 1 of fiverr webite. It is not huge marketplace as Fiverr or seo clerks but few sellers offer very exiting services at cheap rates on gigbucks. Due to very less competition for sellers, many people find it easy to start their freelancing career and gain experience on these kind of sites. You can also check out what Gigbucks users want to buy through gig requests. Sellers can't create gigs worth more than 5$.

GigBucks
(3) PeoplePerHour
If you own a small company and looking for some remote freelancers who can get your work done then PeoplePerHour is a best place to search for. It has around 1,80,000 freelancers and 70,000 clients registered all over the world makes the active users count to 2,50,000. It is not microjobs website as previous websites but it is considered as crowdsourcing website and founded in 2005.
In freelancing marketplace, you can see many instances of cheating and fraud. Peopleperhour helps buyers and sellers to stay alert. Buyer can buy hourlie job (1 hour job) from sellers and if they are satisfied with the seller's work, they can give long term project or work to that seller. Through 1 hour job, you can categorize between genuine and non-genuine sellers. Sellers can also directly search for jobs and bid on most appropriate jobs according to their expertise. This site has different concept than fiverr but provides good opportunities to both buyers and sellers. If you have a dispute, customer support is always there to solve the dispute.

PeoplePerHour
(4) Wizpert
It is also known expert advice platform where you can seek advice from experts of various fields. There are many instances where you get stuck with programming or some different problems and difficult to resolve it. Some other people or experts may get your mistakes instantly by looking at your code. Wizpert is a site where you can seek expert's advice and get solution for your problems quickly. Experts get coins for helping out users which can be redeemed to dollars later. It is a best website for those who want to give advice to other people in free time and earn simultaneously. This website is too good for those who are interested in making money online.
You can find experts of various fields like programming (php, wordpress, C++, ruby, Java, sql, HTML, CSS), Wellness (Nutrition, Fitness, Beauty), Learning (Economics, Languages, Current Events), Business (Presentation, Time management, Resume writing, Career Advise), Life (Relationships, Parenting, Grief, Personal Growth), Consumer Tech, Home & Garden etc.

Wizpert
(5) Fourerr
It comes in the category of fiverr, seoclerks and gigbucks. Fourerr sellers create their services from 4$ to 25$. It is hot favorite among India and US users. As a buyer, you can buy services from different categories like 3D Design & Modelling, Writing, Animation, Advertising, CMS, business, character design, Graphics, Web development, Fun, Gift ideas, Mobile development, Printing, Software development, Music and Video and many more.
You can earn rewards when you buy, sell or refer someone. You can redeem that points later on. Fourerr helpdesk is available to answer all if your queries regarding buying, selling or resolving problems in case of dispute.

Fourerr
I hope you like the article regarding fiverr and popular fiverr alternatives.
Tags
website like fiverr 2015, 2016
fiverr.com gig sites