This is a sponsored post written by me on behalf of Escort Radar + Laser Detectors for IZEA. All opinions are 100% mine.
Today I am going to introduce you to the all-new radar/laser detector Escort Max 360 from the industry leader Escort. It is the successor of the Passport Max. It is the latest windshield mount radar/laser detector which includes quad-directional arrows, display screen, and alert tones to alert you from threats. It provides 3600 protection with its front and rear antennas, the magnetic mount allows for easy attachment and removal from the windshield and it has also got GPS and built-in Bluetooth.
Don't forget to read introductory post here: Escort Max 360: Powerful and Precise Radar, Laser Detector
It has 2 antennas, one in front and one in back to continuously and rapidly scan for the threats. It alerts the threats pretty faster than any other radar/laser detector can do with its technology. With Digital Signal Processing, it continuously acts on incoming signals (i.e. measure, filter and compress signals) to provide extreme range and lightning fast response. Directional arrows indicate the radar source (front, back, side) and also it display different colors for different band radar/laser signals. GPS system helps radar detectors to know where the car is and how fast it is moving. With its Auto-learning technology and TureLock GPS filters, it locks out false alerts and also stores in its memory based on signal frequency and location. With this technology, Escort Max 360 provides protection from radar, laser guns, red light cameras, Air patrol, photo radar threats.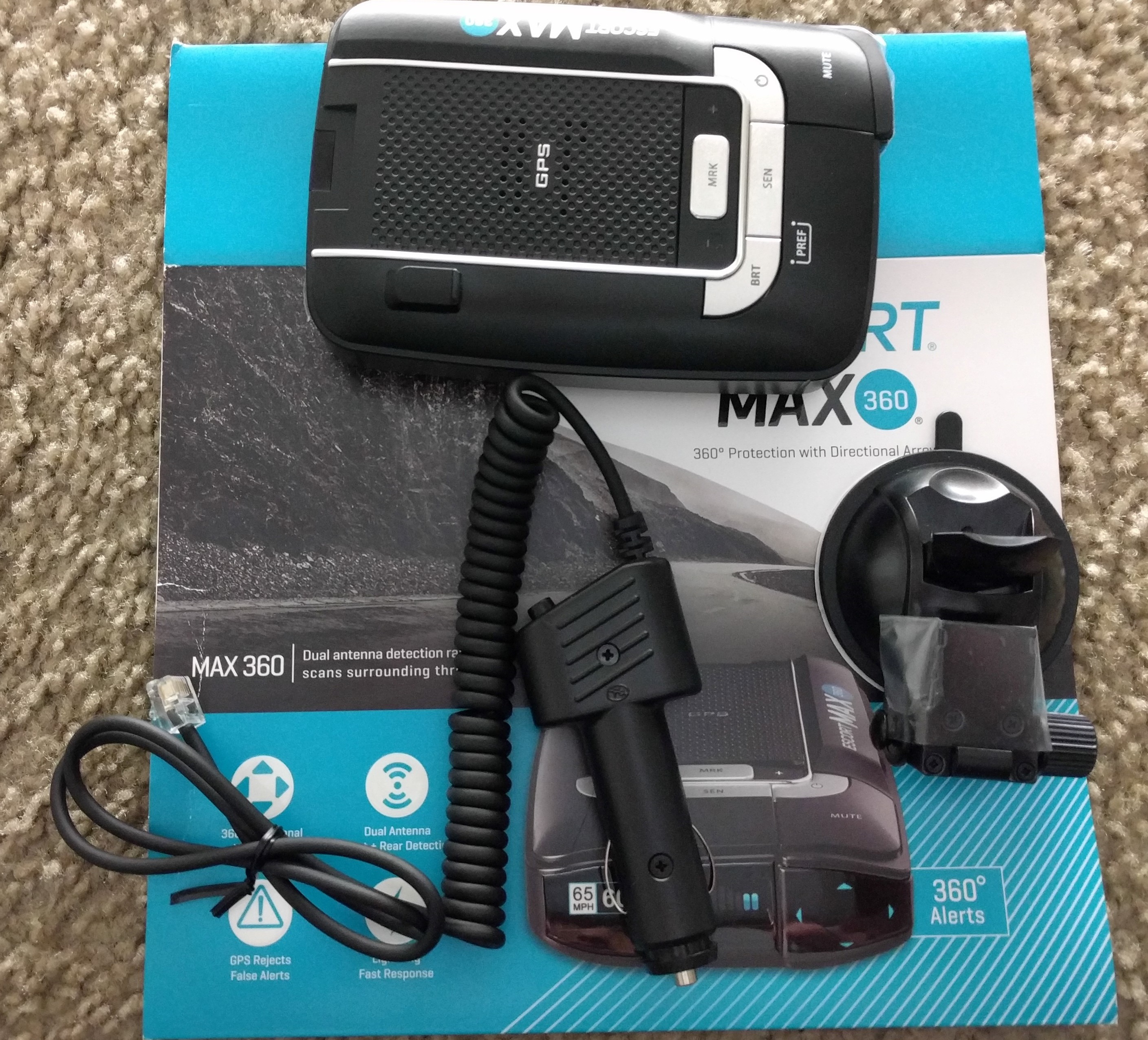 Escort Max 360 is way better than the Valentine One. While showing the alerts, Valentine One has a forward, back and the side arrows light up together. In the case of Escort Max 360, it specifies the threat is to your left, right, front or back using directional arrows. Then it uses multi-colored OLED display having four color settings – Red, Blue, Green and Amber for the bands. In the case of multiple threats, the directional arrow of the primary threat will blink. It uses green color for X-band, blue color for K-band, red color for Ka-band/laser. Along with that, you have different tones for the different bands. i.e. beep tone for the x band, brap tone for X-band, the double-brap tone for Ka-band. So using different colors and tones, you can know the radar band source without even actually looking at the screen.
To give you a brief overview, ka-band radar gun of police works with the automated camera. Every vehicle's speed will be checked by radar and if it exceeds pre-determined speed then the camera will be triggered to capture driver's face, license plate etc. A ticket is mailed to driver ordering him to pay the fine or appear in court.
Let me show our test results with Escort Max 360. We first decided to test how accurately the directional arrows show threats with "Max 360". You can see Up arrow with red color and double-brap tone indicating that you are approaching ka-band radar. As we go down and meets the radar gun parallel, it indicates it with side arrows and later with down arrow as we are moving away from it. This is pretty awesome. It took few seconds to change directional arrows as we moved, but that is not more of a concern. Compared to its earlier version and valentine one, it is more powerful (detected threats quickly and from long distance) and precise.

There are so many intricacies involved when you get a ticket due to over speed, red light violation etc. In addition to ticket cost which averages around $150, the average insurance increate over three years from ONE ticket is $900! That is insane because the mistake you might not have done intentionally and still on average you are paying extra $1000 in 3 years. Also, National Motorist Association estimates that 1/3 of all speed enforcement citations are erroneous and deployed radars and lasers have produces erroneous speed readings. More on that, there are 41 million drivers ticketed per year in U.S, and $6 billion a year is collected from them as a penalty. People tend to argue that they are not speeders and usually they don't go beyond the maximum speed limit. But the reality is that it is very difficult to scan the road all the time and be aware of all traffic signs. Moreover, most drivers travel on roads where speed limit changes without their awareness and, therefore, potential threats are elevated. All of these are driving points to have smarter and powerful laser/radar detector. Escort Max 360 is an ideal laser and radar detector for all kind of drivers which allows them to drive smartly without being afraid of getting a ticket. You can get Escort Max 360 at just $649.95 with "Speeding Ticket Limited Guarantee".
Radar and laser detectors like Escort Max 360 are driver's best friend because these detectors make them smarter and responsible. Generally, people carry a misconception that these smart devices are illegal because of their general functionality. However, this is absolutely false and radar detectors are legal to use all over the US except Washington D.C. and Virginia.
Escort is very confident about the technology which is built into the new ESCORT Max 360. When Escort Max 360 is purchased directly from the factory (Escort 360), you are entitled to get "Speeding Ticket Limited Guarantee" on both radar and laser speeding tickets which means that Escort will pay for your ticket if Escort Max 360 fails to detect threat for you. (T.C. apply)