Imagine getting the entire list of features in your PDF editing software. Not all such software contains the complete functionalities, but I came across this software called iSkysoft PDF Editor 6 Professional which carries the amazing PDF editing technologies and enables you to modify any PDF document as you want.
The iSkysoft PDF Editor 6 Professional is a full-featured PDF editing software that supports Optical Character Recognition (OCR) and enables you to modify and alter PDF documents with accurate formatting and styles. This editor works on both Windows and Mac computers and can be used as a desktop software so that you can edit your PDF documents offline.
In this post, I am reviewing this amazing PDF editing software and tell you why it is the best in comparison to the other similar software.

Summary of features
Edit text, image, and PDF pages.
Edit OCR scanned PDF with desired OCR language.
Markup, annotate and sign PDF.
Convert, split, and create PDF.
Create and fill PDF forms.
Secure, watermark, and share your PDF.
Customize and bookmark PDF.
Supports batch processing.
Compatible with Windows and Mac computers.
The iSkysoft PDF Editor 6 Professional lets you edit any PDF texts with accurate formatting and font styling. Any images present in a PDF can also be edited, including rotating, cropping, inserting, and extracting the images, preserving its original quality. You can even insert, replace, extract, crop, split, rotate, and combine the PDF pages. iSkysoft PDF Editor 6 Professional also supports OCR technology and enables you to extract data from scanned PDF files.
How To Install/Download Turbo C/C++ with DosBox for Windows 7/8/8.1
Any PDF can be marked up with highlights, underlines, and strikethrough PDF texts easily and instantly. You can even annotate the PDFs by adding sticky notes, and the text box enables you to add notes and comments on PDF. Also, you can create free-hand drawings and add annotations anywhere. Moreover, you can add dynamic stamps and sign the PDF with stamps.
The iSkysoft PDF Editor 6 Professional lets you convert PDF to Word and additional formats, and also allows batch file conversion. You can also combine PDFs and more than 300 other file types into a single PDF file. Not only this much, this software also lets you split a PDF into several files by page ranges and bookmarks. It also supports creating high-quality PDF from MS Office formats.
The PDF editor allows creating PDF forms, whether they are interactive or non-interactive. You can create fillable PDF forms and customize them as you want. One of the best features of this software is, it supports one-click form automation to extract PDF form data, and its automatic form recognition makes old form interactive.
Another best feature of this software is, it provides optimum security and enables you to add or remove passwords to PDF in batch. You can add or remove the watermark to your PDFs in batch and redact PDF texts and images permanently. And after your PDF is finally done, you can share it via email or Dropbox.
Your PDF can be organized by bookmarking it for easy navigation and customizing by adding header and footer to the PDF. Again, you can add Bates numbering for easy indexing, and set user permissions with password restrictions to control printing and other changes in the PDF.
The iSkysoft PDF Editor 6 Professional is the all-in-one solution for your PDF editing requirements. This software is meant for both home and office users so that you can make the most out of your PDF documents.
How to use the iSkysoft PDF Editor 6 Professional?
After you have downloaded and installed the best PDF editor for Windows, you need to launch it from your desktop. After opened, you will see the panel of options where you can choose from edit PDF, convert PDF, create PDF, combine PDF, batch process, and browse through the PDF templates.
For editing a PDF, you can browse through your computer and open the PDF file you want to edit. The editing can be done on the page itself by changing the text, font, colors, and other formatting options. Moreover, you can change the background, crop a PDF, add images, watermark, and links to the document.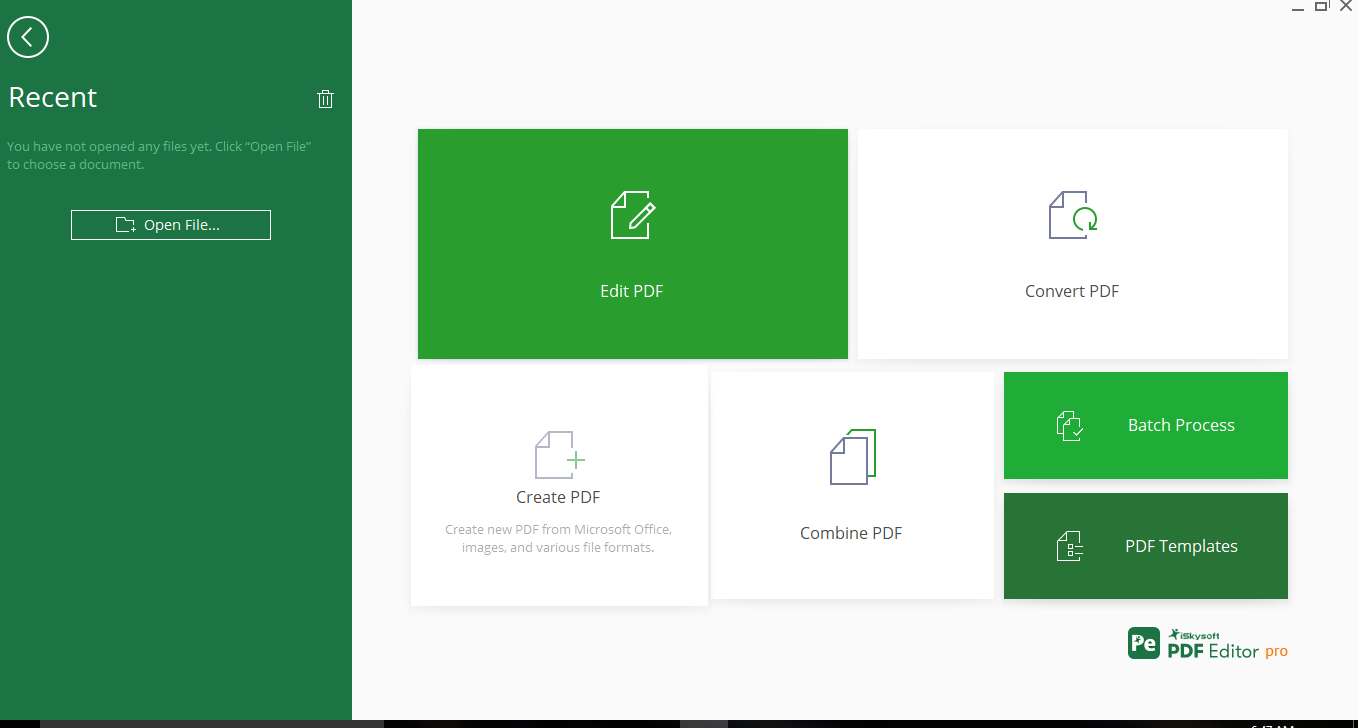 For converting a document, you can choose your desired PDF file and save it as a Word file. Additional formats supported are Excel, PowerPoint, image files (JPG, PNG, TIFF, GIF and BMP), text, HTML, etc. Simply save the file to your desired format and your document will be converted.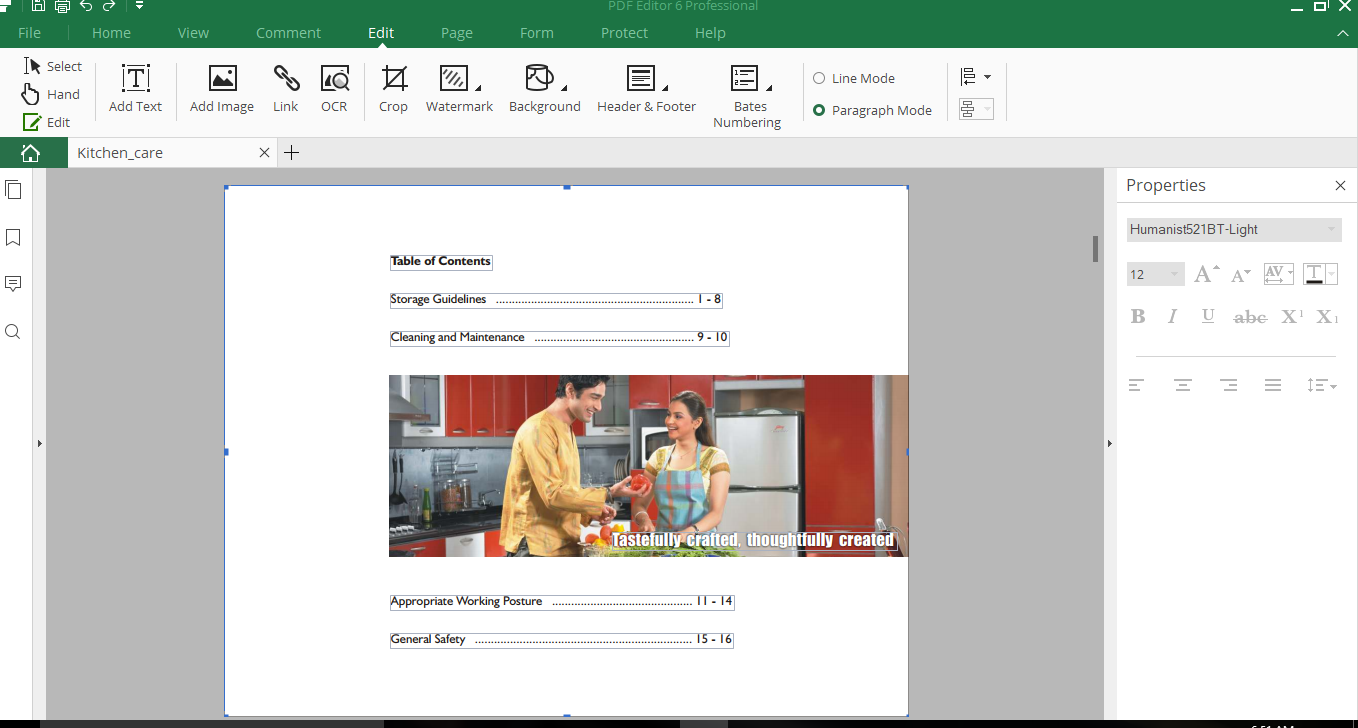 You can create a PDF out of any other file with a click. Additionally, you can select multiple files and convert them to PDF in a single step. This will save your time and ease out your work process.
The software also lets you merge multiple file types into one PDF document without any hassle. You can process multiple PDF documents and extract data from them at once. Moreover, you can convert them and add watermarks to all the PDF docs at a time.
The iSkysoft PDF Editor 6 Professional tool also allows you to view the documents as you need, including zooming in and out and choosing to read one or two pages at a time. You can choose various types of marks to mark up the document and highlight the important areas or texts in it. You can also add notes or comments, stamps, and hide annotations in a PDF document.

Where to get the iSkysoft PDF Editor 6 Professional software?
The iSkysoft PDF Editor 6 Professional software can be availed for both Mac and Windows systems. You are also offered a free trial of the software with some limited features. The pro version of the software can be purchased from (https://pdf.iskysoft.com/purchase/buy-pdf-editor-6-pro-windows.html) starting $99.95.
Top 10 sites like hidemyass.com to use it as alternatives
Conclusion
The iSkysoft PDF Editor 6 Professional is not just a basic PDF editing software, but it encompasses the complete functionalities that you seek while editing a PDF file. Compared to the related software, this tool works in a simpler way and can be handled by anyone, even if you are inexperienced. This user-friendly software benefits you with all the necessary tools within a simple and intuitive interface, making your work done in minutes.
So if you are looking for a full-fledged PDF creating and editing tool, then I'd recommend you the iSkysoft PDF Editor 6 Professional to serve your purpose.