When you need a noticeable space in Instagram, it is very important to keep your pics noteworthy. The best photos in Instagram often include some originality or some well versed good captions. And those postings always bring good traffic and likes. This is why most users prefer using Instagram captions to highlight their postings and selfies. In this article, we are going to list most popular "captions for instagram" and "quotes for instagram".
The key benefit of using insta quotes is that it keeps your photo visually risen and keeps it at the top of the junk. And it is the cleverest thing to do. With above 70 million images per day, a normal image will definitely be overlooked by users. So a putting a caption keeps it painted and most users are often captivated with it. Still before putting a caption, you should be aware of some guidelines and the ways which will bring perfection to your image.
Tips to write good Instagram captions
(1) Think, think and think
Always think before you put a caption for your image. Judge the image style and what will appropriately match it. Most users are impatient enough to rush for posting an image instantly as they click it. In that case, you cannot choose the right caption and hence, your image do not get the exposure that it deserves.
300 cool instagram names for your instgram handle
(2) Pick your own style
Always carry a nice signature style caption which is creative and defines you. Avoid copy-pasting quotations from other sites because that does not carry the originality. Pick short lines and keep one word strong which is concisely and evidently tell a story about the picture. Applying this will bring the best captions in your mind.
(3) Use the right emoji
Avoid using too many emoticons in your quote and it is always recommended to use a single one. Using too many emoji's will indicate users that you're joking with your followers and the image won't get the right attention.
(4) Use limited hashtags
Most users clutter up space by using unnecessary hashtags. That makes the post looks messier and the main content gets hidden. So use only a minimal number of hashtags which adds some sense to your post.
Best Selfie captions for Instagram
Selfies are a sign of self-confidence, and when you share it, that confidence should reflect in your face. Thus, adding a caption to your selfie will make the image more revitalizing and bring the best results. This is why we have collected the finest and unique selfie quotes which will work the best with your mirror selfie and other selfie shots.
Amazing and good selfie captions for Instagram
Maybe she's born with it.
This is my simple suburban life.
It's so beautiful when a boy smiles.
The sun will shine someday.
What do you think of the view?
Snapchat me.
I'd rather laugh with the sinners.
Cheers to friendship!
Funny how a beautiful girl can tell such a sad story.
Selfie Sunday.
I didn't choose the thug life, the thug life chose me.
Smile, life is beautiful.
Am I adorable?
I'll never try to fit in. I was born to STAND OUT.
Don't let anyone tell you that you're not strong enough.
All you need is love.
I'm not lazy, just relaxed.
We all shine on.
Trying clothes on, do you like it?
Happiness is just a chemical.
Help, my duck face is stuck.
A daily selfie reminds you what you look like.
A little birthday party they said, it'll be fun they said.
Sarcastic and witty captions for selfies
Upload photos to instagram from computer
I just got 30 likes. #selfiepro
I don't know you.
Hey, girl.
It's sexy time.
Sweatpants or yoga pants?
A selfie a day keeps the friends away.
This won't last.
A daily selfie can show everyone how absolutely vain you are and how you truly have jack shit to do with your time.
Being silly with the girls.
You guys are just so darn cute.
Has one-night stand, but way too many books to fit on it.
---
Best quotes for Instagram bio
Since your bio defines your personality, you can also add some cool quotes to Instagram bios to make it look interesting. So we have compiled a list of top funny quotes that you can use as your Instagram bio quotes.

Funny IG captions for your bio
A man of puzzle and force, whose force is surpassed just by his secret.
Completely clumsy, proudest of geek & nerd, decreaser of world sucking.
Simple during childbirth, computerized by configuration.
Frequently Unreliable. Effectively distracted.
Conceived at an exceptionally youthful age.
Chocolate doesn't make inquiries, chocolate gets it.
Espresso Drinker, eReader Addict, Blogger. I'm exceptionally occupied and wonderful.
Currently featuring in my own particular reality show titled, A Modern Cinderella; One Girl's Search for Love and Shoes.
Currently living up to expectations towards an MBA with an accentuation in dream football.
Think ambitiously (little textual style).
Great Samaritan, cleaned up the competitor, particularly skilled napper.
I am an on-screen character and an essayist and I co-made my breakfast and my child, Malachai.
I shouldn't be permitted to go on Snapchat, Google+, Facebook or Instagram when I'm intoxicated!
I'm a Basset Hound enthusiast with a mouth like a Syphilitic mariner.
These quotes for Instagram bio will make your profile look awesome and standing apart.
How to find the best Instagram quotes?
If you are confused with what caption you should use, then you can also find some from the web. For instance, Drake lyrics has occupied the minds of most users and few of them sound stupid, yet hilarious. So you can use the following lyrics as funny Instagram captions and that will make your pictures look great.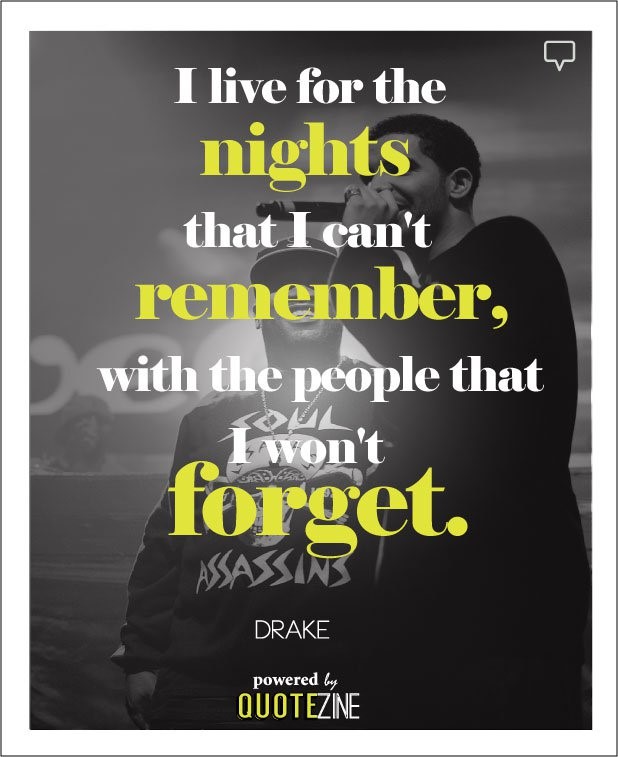 Drake lyrics as caption for Instagram posts
"Nobody really likes us except for us".
"I live for the nights that I can't remember with the people that I won't forget".
"My team good, we don't really need a mascot".
"You the best I ever had".
"Drinking every night because we drink to my accomplishments".
"Live for today, plan for tomorrow, party tonight".
"Make the most out of tonight, and worry 'bout it all tomorrow".
"Worrying about your followers, you need to get your dollars up".
"Pray for the real live forever man, pray for the fakes get exposed".
"Sweatpants, hair tied, chillin' with no makeup on".
"Whole squad on that real shit".
"Pussy run everything".
"I still ride with my day one".
"Somewhere between I'm sober and I'm lifted".
"On my worst behavior".
"World Series attitude, champagne bottle life".
Best Instagram quotes
They are normally added as a photo which is entirely filled up with a caption. These one-liner captions work very effectively as they capture the eyes of the user. Using captions and Instagram quotes, effortlessly bring likes and comments from your friend can they always stay on the top of the digital gallery. Besides they also add fun to your posting and users love such images for their daily dose. So we have also compiled the best and "cute captions for Instagram" just for you.
In the event that at first you don't succeed, wreck all confirmation that you attempted.
Life is a thrill ride within a labyrinth.
When somebody says, "You've Changed", it just means you've quit carrying on with your life their way.
There are three sides to a contention – your side, my side, and the right side.
Life is similar to photography,
you utilize the negatives to create.
Train your brain to see great in everything.
Cautioning… I know KARATE… … .And a couple of other oriental words.
In the event that there is a "WILL", there are 500 relatives.
I love my occupation just when I'm in the midst of some recreation.
I am absolutely accessible! If you don't mind exasperate me!
At the point when motivation does not come to me, I go most of the way to meet it.
I am not letting you know it will be simple. I am letting you know it will be justified, despite all the trouble.
At times, you succeed and different times you learn.
The street to achievement is constantly under development.
In the event that you can't persuade them, befuddle them.
Be a decent individual, yet don't attempt to demonstrate.
At the point when everything comes to your direction. At that point, you are on the wrong way.
Numerous a man in love with a dimple commits the error of wedding the entire young lady.
In this way, this is the most established I've been.
Kinship comes when quiet between two individuals is there.
We're a non-benefit organization. It didn't begin that way yet it happened. [tweet it]
Nothing on the planet is more normal than unsuccessful individuals with ability.
Experience is a decent instructor, yet she sends in spectacular bills.
To start with love is vital however last love is critical.
I enjoyed things better when I didn't comprehend them.
Had a truly incredible "Night Out" the previous evening, According to my police report.
A man in love is fragmented until he is hitched. At that point, he's done.
A young lady must wed for love, and continue wedding until she discovers it.
Abhorrence is clear just by and large.
I'd far preferably be upbeat than right.
I'd disclose it to you however I'm perplexed your head may blast.
I'd give my right arm to be able to use both hands.
I can oppose everything with the exception of enticement.
You're really near to impeccable.